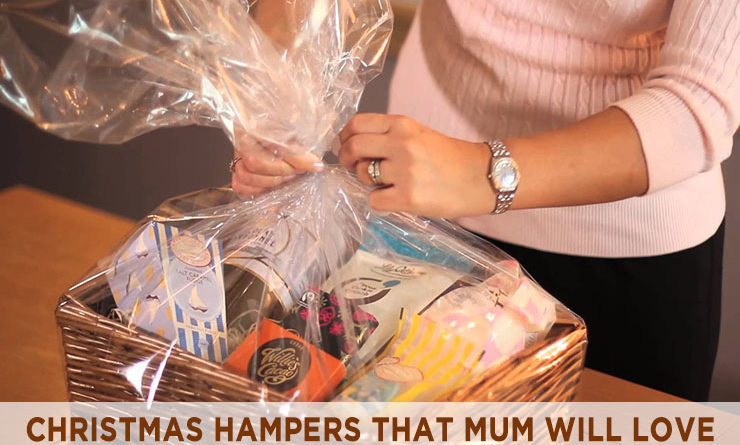 Christmas hampers filled with delightful goodies are the ultimate treat and a perfect way to surprise your Mum during the festive season. Because Mums rarely treat themselves and often only wish for something that doesn't make any trouble getting, choosing a Christmas present can be tricky. If you are looking for something elegant and special gift hampers for your mother to sit under the tree, get her a luxury hamper filled to the brim with high-end items from Two Churches full-bodied Cabernet Sauvignon, indulgent coconut antioxidant bars and handmade, creamy soft nougat with slow-roasted pistachios to detoxifying bath salts and delicious organic tea.
We have put together a sensational yet budget-friendly range of luxury Christmas gift basket, each one offering hand-selected irresistible sweets and savoury foods from many favourite luxury brands. Whether you are searching for an elegant gift hamper with the delectable flavours of Christmas or one that is filled with organic skincare products, inspiring cookbooks and luxury bath items for your mother to indulge in, we are sure to have put together a gift basket that is just perfect for your mum to treat herself.
Festive Christmas Hamper
This hamper is a delight for the lady celebrating in style with a variety of sweet and savoury treats. The gift box comes presented with a ribbon and includes delectable treats such as a bottle of Two Churches Cabernet Sauvignon to be devoured with Ogilvie and Co. Fine Foods Antipasto Olives and Honey Roasted Peanuts, Falwasser Rosemary and Sea Salt Crispbread and Charlie's Traditional Raspberry and White Chocolate Mini Melting Moments for the sweet tooth.
Savoury Christmas Delight Hamper
This luscious Christmas hamper with savoury seasons delights is sure to wow the recipient the moment the lid is lifted. The gift box includes Puddings on the Ritz Christmas Pudding, For the Love of Cheeses Artisan Fruit and Seed Crispbreads Cranberry and Hazelnut, Nougat Limar Vanilla Pistachio as well as gourmet products such as Antipasto Olives and Honey Roasted Peanuts by Ogilvie and Co. Fine Foods.
Antioxidant Wellness
This hamper is the right present for a mother who needs some relaxation after all the Christmas preparation and indulgence. The hand-selected goods are sure to treat the body and soul with natural skin products, detoxifying bath salts and organic tea. Among other treats, the wellness hamper gifts a 450mls Fressko 'Trip' Flask, Life of Cha, Purify Tea, Organic Roasted Dandelion, Chicory & Barley, Burdock Root & Ginger, The Aromatherapy Co. Therapy Range Detoxifying Bath Salts, a wooden body brush and Raw Organic Chocolate Coconut & Goji Handmade Chocolate.
Breakfast in Bed with Coffee and Pancakes
This gift basket holds everything your Mum needs for a delicious breakfast on a lazy morning. After untying the stylish ribbon of the gift box, treats such as the white Hug Me Mug by Robert Gordon will await her among 100g Harmony Ground Coffee by Byron Bay Coffee Company. To give the Adelia Vanilla bean pancake mix some extra flavour, your mother can choose between Nobel Tonic #01 Maple Syrup or Peach Fruit Nectar by Santa Vittoria.
Ladies Night Hamper
After a hard week, there is nothing better than to unwind with a bottle of bubbly, some sweet treats and relaxing goodies. The ladies night hamper comes with a Piccolo Sparkling Pinot Noir from Bird in the Hand, 5 sachets of Winter White Earl Grey Tea, Black Pantry Handmade Mixed Marshmallows a silk eye mask and soft grey socks.
Donna Hay – Life in Balance
If your mother enjoys cooking and likes to be inspired by new energising whole foods recipes, this hamper might be the one you're looking for. Donna Hay's cookbook gives insight on her approach to a balanced diet with clean breakfasts, power proteins and green dinners. The cookbook is accompanied by a bottle of Villa Maria Private Bin Sauvignon Blanc 2015, Zokoko Goddess Dark Chocolate with Orange and an Antipasto Olives Dipping Bowl Set.
Read More: